Nickel City Beard Blends
Regular price
Sale price
$15 CAD
Unit price
per
Sale
Sold out
Treat yourself to our popular tattoo balm, infused with a balanced blend of natural and soothing ingredients such as lavender and chamomile, it is sure to elevate your senses while providing deep nourishment and keeping your skin moisturized. Suitable for all skin types and safe for the entire family, it can be used to soothe dry skin and minor bug bites during the summer months. 

With its versatility and portability, this balm stick is a great way to help keep your skin hydrated after getting a new tattoo, as well as reinvigorating the colors in older ones. Experience it for yourself and see why thousands of North Americans are flocking to our Canadian brand to try our popular line of All-Natural products. 
Our travel-friendly tattoo balm comes in an easy-to-carry 15 g (0.5 oz) tube stick with cap, and is not only portable, convenient, and recyclable, but also helps preserve the potency and quality of the natural ingredients used in our product. Shop with confidence while choosing a brand that values its customers and donates a portion of sales to local charities across Canada every year.
PROUDLY MADE IN CANADA WITH NATURAL INGREDIENTS: Our tattoo balm is infused with premium natural ingredients you can easily pronounce without a dictionary, with a base of rich and moisturizing waxes, oils, and butters such as beeswax, grapeseed, coconut, avocado, castor, jojoba, hemp, and shea butter - so you can feel confident about what you're putting on your skin. 
A GREAT MOISTURIZING SOLUTION FROM HEAD TO TOE: With natural ingredients such as lavender and chamomile, our tattoo balm deeply nourishes, moisturizes, and hydrates the epidermis layers in your skin. Safe for the entire family, parents and kids absolutely love its versatility! 
REFRESHING ALL-NATURAL SOOTHING SCENTS: Our tattoo balm provides you with a mild and soothing scent combination of fresh lavender and chamomile. With its natural fragrance, this All-Natural product is a delightful treat for the senses, leaving your skin feeling soft and refreshed with every application.

CONVENIENT, PORTABLE, AND EASY TO USE: Our tattoo balm comes in an easy-to-carry tube stick with cap, for easy application, making it convenient and mess-free, even when you're on the go. A great eco-friendly choice. 
WE DONATE A PORTION OF SALES TO CHARITIES: Shop with confidence knowing that a portion of sales is donated to local charities across Canada. Join us in helping others, one tattoo balm at a time.
To ensure an easy and optimal application of this balm, simply pop the cap, twist the bottom to dispense, and apply to the desired area(s). 
To minimize the risk of contamination and adhere to the best health practices for tattoo aftercare, we strongly suggest NOT sharing this product with anyone, and obtaining professional guidance from your tattoo artist.
Ricinus Communis (Castor) Seed Oil, Vitis Vinifera (Grape) Seed Oil, Butyrospermum Parkii (Shea) Butter, Cera Alba (Beeswax), Persea Gratissima (Avocado) Oil, Calendula Officinalis, Cocos Nucifera (Coconut) Oil, Hemp Seed Oil, Olea Europaea, Rosa Mosqueta, Simmondsia Chinensis (Jojoba) Seed Oil, d-Alpha Tocopherol (Vitamin E), Anthemis Nobilis, Lavandula Angustifolia (Lavender) Flower Oil and Rosmarinus Officinalis (Rosemary) Leaf Extract. 
Share
View full details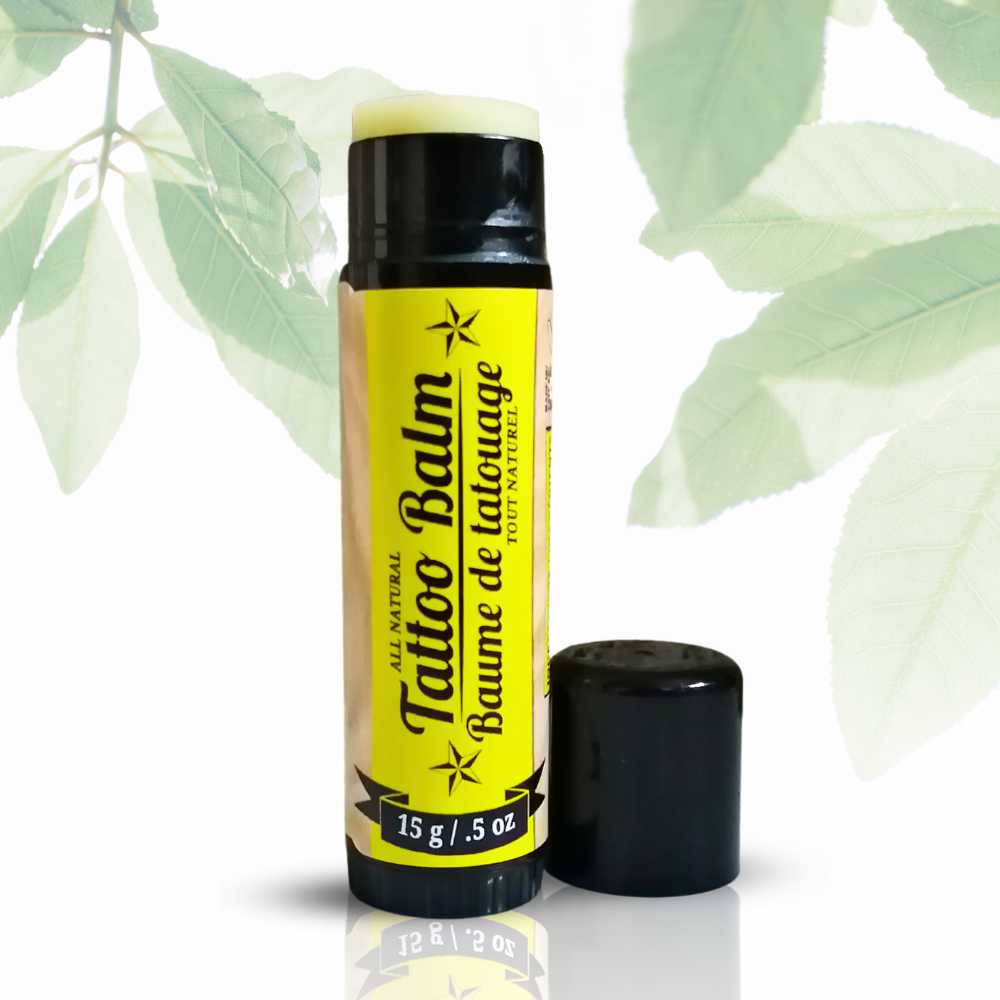 An absolute must for Ink care!
With every new tattoo I get, each artist gives or recommends a lotion to use to help with healing and aftercare... I've tried a lot and always go back to the Tattoo Balm from NCBB. The stick form makes it easy to apply the right amount, it goes on smooth, and just makes everything feel and look great! I gotta buy extra now because my wife likes to steal mine when she gets ink too!
Great tattoo balm
I've been using this balm for quite a while now and just love it. It reduces the itchiness from dry skin and from mosquito bites. Would definitely recommend it!
Awesome tattoo balm
My wife and I each bought one to help during our tattoo healing process. Works much better than more expensive products out there. Bonus we can use it on our kids' bug bites when we're at camp. Great job guys, will be ordering more soon as we're obsessed with the smell and quality of this balm. Time for another tattoo I guess lol
Excellent product
I have used this product for tattoos as well as to put on itchy bug bites and hives. It works great for both. I always keep one on hand. Excellent product.
Best Balm
This balm is literally my favorite smell in the world. I rub it all over my tattoos every morning after the shower and feel and smell so fresh. New found part of my daily routine!